<!—[if gte IE 9]> <![endif]—>
Feature Highlight
Alarm at exceeded wind speed
Rigid sensor form fact
Up to 4 years sensor battery life
Up to 400 meter long range transmission
Shock resistant receiver
Sunlight readable large digits LCD display
Replaceable wind cups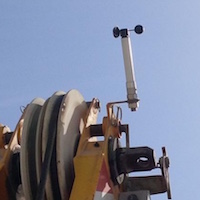 ]
Specifications
Current, maximum & average wind speed (selectable averaging period)
Standard units (knots, m/s, km/h, mph)
Beaufor scale graph
Temperature in Celsius or Fahrenheit degree
Wind chill
Sound alarm at exceeded wind speed

| Item | Description |
| --- | --- |
| Wind Speed Measurement Range | 0.1...50 m/s |
| Wind Speed Accuracy | +/- 3 % |
| Wind Speed Resolution | 0.1 m/s (under 9.9 m/s); 1 m/s (Above 10 m/s) |
| Units of Measurement | m/s, km/h, knots, mph, Bf |
| Temperature Measurement Range | -30....+60 °C, +/- 1 °C |
| Dimensions - Sensor | height 210 mm; diameter cup to cup 120 mm |
| Dimensions - Display unit | 94 x 63 x 28 mm |
| Averaging period, selectable | 2s, 10s, 30s, 2min, 5min |
| Display updating | every 2 seconds |
| Data transmission | every 2 seconds |
| Measurement interval | 2 seconds |
| Transmission frequency | 868 MHz/ +10 dBm; 908 MHz, 922 MHz (requested by clients) |
| Battery - sensor | 1 x 3.6 V AA Lithium battery |
| Battery - display unit | 2 x 1.5 V AA |
| Mounting | the sensor mounts on a pipe with ø 20 mm diameter |

Agriculture

Construction

Marine

Chemical Plant

Office Tower

Onshore

FAQ

Q1: What is the accuracy of Scarlet Wireless Anemometer?

Wind speed accuracy is +/- 3%. We guarantee every wind speed sensors is calibrated and tested before shipment.

Q2. Why does WR-3 have such a long battery life?

The wireless module used on wind speed sensors only requires very low power consumption. The transmission power consumes 20-30 uA in normal condition and 35 mA peak current in every 2 seconds. The standard 3.6V Lithium battery (2400 mAh) can sustain the sensor for 4 years.

Q3. What is the actual transmission distance?

The transmission distance can reach as far as 400 meter in open space. The actual distance depends on the topology & obstacles. According to user experiences, the vertical transmission distance can be 200 meters in height. Harmonic disturbances are possible in theory, but so far we did not receive complaints about this.

Q4. How to do pairing?

Pairing between sensor & receiver is based on address. The address is labeled on the sensor body. User can set receiver address by setting menus. All WR-3 were paired and tested before shipping. If the text instruction is still not clear, please visit this YouTube link.

Q5. Can I pair multiple receivers to one sensor?

Yes. Users can connect unlimited numbers of receivers or combination of different types of receivers to one sensor (for example users can pair WR-3 sensors to WL-11 wireless wind logger).

Q6. Do you have a smartphone version?

Yes. We have bluetooth wireless anemometer for smartphoone (Android and iPhone) users. For more information, please visit our Smart Windy product page.

Does WR-3 have Certification?

Third party certificate can be ordered on demand. The calibration certificate will be issued by SGS Lab.